I continue my quest for the perfect fitting jean.
This pair is from Jones of New York and purchased at Dillards.
The fabric is cotton with a smidge of polyester and even smaller smidge of spandex. I can't believe there is any spandex since they don't have that stretchy feel to them. This five pocket straight leg jean has a regular rise. T
he pant rise is important because it determines where your pants sit on your body, which in turn creates your perceived waistline.

These sit about 1 inch from my natural waistline. If you are under 5'8", they would sit close to your actual waistline.
The rise is perfect for me
I have had my blouse for quite some time. It is a Classic ruffle front Ralph Lauren plaid.
Just Fab is a great place for me to buy boots. Where I live, the wearing of boots is a fashion statement. It's not like we are going to wear them in the snow or for protection from the cold stormy weather or for traipsing along miles of gravel paths...... We just wear them because they are "cute"
has prices that allow me to buy several pairs. I insert a gel sole to make them a little more comfortable.




History of Denim Pants
In 1872, Jacob Davis teamed with Levi Strauss to create a work pant made of true blue denim. The big selling point was their strength.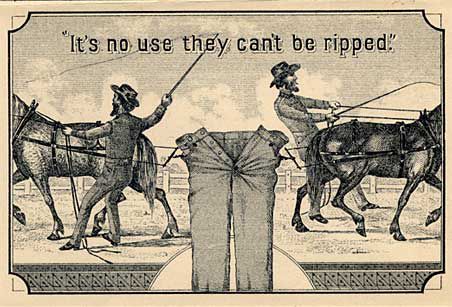 But it wasn't until 1918 that a denim tunic/trouser was designed for women.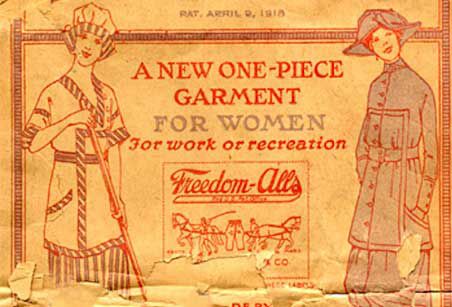 Our present day denim pants (Levi's) were first made in 1934. They were made of blue denim and constructed in a similar manner to men's with the exception of a high "nipped in" waist.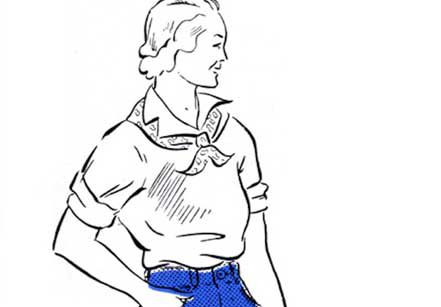 actual advertisement drawing

That's your trivia for the day. Now
go out and impress the world